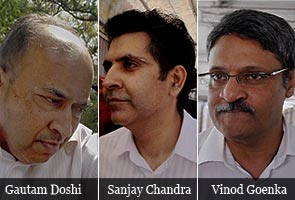 New Delhi: The CBI today sought "detention" of five corporate executives chargesheeted by it for their alleged role in the 2G scam, saying that they might "abscond" and impede the trial.

Opposing their bail pleas, the CBI, in its reply to the court of Additional Session Judge O P Saini, said that some of the key witnesses, belonging to the corporate world, directly worked under them and the possibility of the accused winning them over could not be ruled out.

"The accused are holding high positions and now that the names of witnesses are disclosed, some of whom are directly working under (them) or are amenable to their directions, possibility of winning over and/or influencing the witnesses is clearly present," the CBI said.

"Considering the matter on record, complicity of present accused in the crime is clearly made out. The act complained of and offences alleged are far serious having made deep inroads in public interest and financial affairs of the state," the CBI said.

The top corporate leaders are Swan Telecom Director Vinod Goenka, Unitech Wireless (Tamil Nadu) Ltd Managing Director Sanjay Chandra, and three top officials of Reliance ADA Group Gautam Doshi, Surendra Pipara and Hari Nair who have been named as accused by the CBI in its first charge sheet running into 80,000 pages.

The replies, settled by Special Public Prosecutor U U Lalit, appointed by the Supreme Court to assist the special court to try the 2G scam accused exclusively, said there was every likelihood that the accused "will abscond" in order to avoid smooth trial.

Judge Saini, who has been directed by apex court to hold day-to-day trial in the case, had earlier allowed Lalit to file written replies to the bail applications of the corporate executives who were not arrested during the investigation by the CBI.

The court would hear the remaining arguments on the bail applications at 2 pm today.