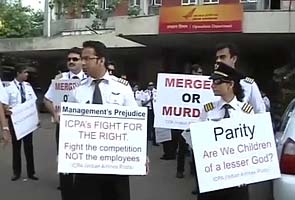 Delhi/Mumbai: The Delhi High Court yesterday asked the agitating Air India pilots to call off their strike in "larger public interest," but they seem to be no mood to return to the cockpit.

The 700 pilots, demanding higher pay, are continuing with their strike today as well, hitting both domestic and international flight operations badly. So far 16 flights have been cancelled out of Mumbai and 28 out of Delhi.

On Wednesday, at least 24 flights were cancelled and several others were running upto three hours late.

"These pilots cannot dictate terms, they are the highest-paid in the country", said Civil Aviation Minister Vayalar Ravi. Earlier in the day, the management of the airline derecognised the Indian Commercial Pilots' Association (ICPA), sealed its offices in Mumbai and Delhi, and declared the strike illegal. The President and General Secretary of the union have lost their jobs with the airline. Another four pilots were sacked and two were suspended. (Read: Air India statement on pilots' strike)

"We have given a strike notice on the 23rd of February. It is now two months and three days, we have waited. So if they say we have no patience, they are trying to fool not just us, they are trying to fool the media and the public of this country," said Rishabh Kapur, General Secretary, Indian Commercial Pilots Association.

The ICPA counts about 700 members who used to work for Indian Airlines till it was merged in 2007 with Air India. The ICPA says that Air India pilots are paid more and they want the disparity to end.

The striking pilots are demanding fixed salaries like pilots of Air India, with which Indian Airlines merged in 2007. Pilots flying domestic routes are paid as per flying hours, unlike their counterparts who fly to destinations outside India and get a fixed salary.

The striking pilots say the salary crunch is harder these days as domestic routes have been reduced.

''When I went to take endorsement on the ticket, they told me the flight is cancelled. No alternative,'' a passenger at Mumbai told NDTV.

150 executive or management pilots - who handle administrative assignments and operate flights - are being used to step in for those on strike.

Larger planes - like the Boeing 777 and Boeing 747 - could be used for key metro routes like Delhi and Mumbai to ensure fewer pilots are needed.