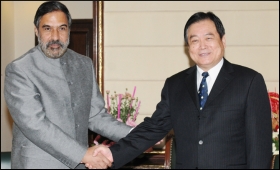 While staying concerned over the huge trade deficit with China, the Union Minister of Commerce and Industry, Anand Sharma expressed optimism that recently unveiled 12th Five Year Plan for 2012-14 of China, with a strong slant for a domestic consumer driven economy will give enormous opportunity for Indian exporters to access China's huge consumer market in the coming years.

The trade deficit for India for 2010 stood at USD 20.02 billion, more than USD 15.87 billion trade deficit in year 2009 with China, which is an export driven economy.

He met the Jiang Jufeng, Governor of Sichuan Province of China, a province with which India's trade relations date back to 444 B.C.

During the meeting in New Delhi on Monday, Sharma said, "Sichuan Province of China is very important from Indian point of view and that there is great potential for cooperation between the two regions. India is an important partner to Sichuan Province, in terms of trade, engineering contracting, and service outsourcing cooperation, as well as an emerging investment destination and source."

Sichuan cuisine is well known in India. By 2010, India has invested in 7 projects in Sichuan, with a contracted foreign investment of USD 10.59 million and actual paid-in foreign capital of USD 6.55 million.

The Province has annual trade of USD 1.2 Billion with USD 1.1 billion in exports to India.

Exported products mainly included electrical and mechanical equipment, audio and video equipment, textiles, metalware and chemicals. Imports from India were USD 98.39 million, including minerals, chemicals and electrical and mechanical products.

In January 2011, total volume of import and export between Sichuan and India soared 41.64% over the previous year, to USD 129 million, including exports of USD 127 million, up 37.2%.

Trade between India and China has witnessed exponential growth in last few years. China has now emerged one of India's largest trading partners with trade crossing the target of USD 60 billion (total trade USD 61.74 billion) during 2010 and expected to reach USD 100 billion by 2015.