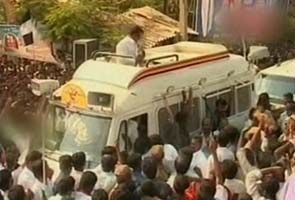 Chennai: Actor-turned-politician Vijayakanth, who is also the chief of DMDK, has stirred up a controversy after he was seen allegedly assaulting his party candidate at an election rally in Tamil Nadu.

Vijayakanth, whose DMDK is a constituent of the Jayalalithaa's AIADMK-led alliance, allegedly beat up his Dharmapuri candidate in full public glare while canvassing votes from an open vehicle.

The victim was in charge of the public address system at the poll rally. Vijayakanth allegedly hit him when the microphone failed.

The entire episode was captured in a video that was later aired on his Captain TV channel.

A defiant Vijayakanth later said at an election rally that there was nothing wrong in what he did and that whoever he beat up would become a Maharaja later.

The ruling DMK, meanwhile, slammed the actor for the incident and said, "The incident reflects the poor leadership of the party".